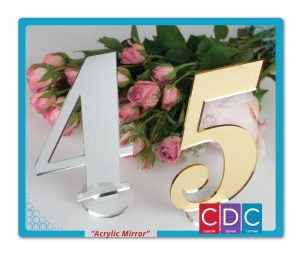 Acrylic Mirror is a lighter comparison to Glass Mirror and has some great qualities that make it safer to use than glass. It has an impact strength that is 10 times greater than glass along with being lighter in weight compared to glass mirror.
Another great safety feature is the acrylic mirror is shatterproof.
The finish of the mirror is a silver reflective surface with a grey backing on the reverse. Due to the backing we do not recommend you use any glue solvents on the back, but rather use acrylic bonding tape or drill holes for mounting. Acrylic Mirror comes in a silver and Gold Finish.
Another key feature of the acrylic mirror is you can use this product inside or outside.
The thickness of the mirror can vary but we find working with 3mm is the best. We only use the highest quality of acrylic mirror, as there are other brands (cheaper) out there that do not compare to our product and you will be disappointed with the cheaper quality.
Acrylic Mirror can be utilized for many projects such as
Garden Mirror
Dance Studio
Retail Display
Caravan Interior
Cosmetic Display
Children's Bedrooms
Display cases
Wall features
Child Care Centres
DIY Projects