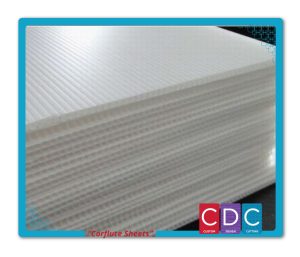 White corflute sheet is made from plastic weather resistant Polypropylene. With using this material you can safeguard your signs so it can withstand the outside environments elements.
This product can be printed on and also have vinyl or stickers attached to it.
Commonly known as corflute, Malflute, Fluteboard, fluted poly, poly flute, Cori flute, Fluted Polypropylene this product is used for the same application and can be described or called many different products.
Corflute is ideal for a wide range of applications
most widely used for sign writing. You can get vinyls stickers or have the sheets printed to make your signs to your specification.
making small a frame inexpensive street signs such as home open signs, small business advertising and also used for quick arrow signs for directions to events.
floor protection in home renovations Is thick enough to withstand movement of furniture and will heavy enough to sit on floor without moving around
moving furniture and furniture protection. Other than wrapping furniture in blankets this is a more robust sheeting that will protect with constant movement – ie on transport state to state.
Gloss white finish
Ideal for sign writing
Tough plastic construction
Cheap lining alternative for house renovations for floors to be unmarked
Chemical Resistant
Packaging
Cheap alternative for a throw away signs for small business, sales, fetes, services and advertising
Panel Size 1220 x 2440
Thickness 3mm
Sheet Quantity/ Pack 10 pieces to a pack Minimum order 20 pieces
PRICE $ 250.00+gst – in packs of 2o pieces
Price $ 115 +gst – in packs of 10 pieces
Price $16.00ea+gst – for 1-9 sheets
Cutting service available for sheets POA – please contact us at nicole@cdclaser.com.au